Oleg Zhdanov, the Ukrainian military expert, with his battlefield and military-political situation update on 27 August 2022. The update took place at 13:00 Kyiv time.
Today is Aviation Day in Ukraine – congratulations to everyone involved in the industry!
In the past day, no changes of the frontline except for minor movements in four directions around Donetsk, with no success for Russians.
Volyn-Polesye (Belarus – North)
The adversary continues accumulation of electronic warfare systems. This may be to cover their own airspace in case of Ukrainian aviation or ground strikes, and to interfere with Ukrainian military command along the Belarus frontline.
Northern direction
Enemy holds some units of the Western Military District in border areas of Bryansk and Kursk Oblast in order to lock up Ukrainian defensive forces and prevent them from being transferred.
Kharkiv direction
Gun and artillery shelling by Russians, and also aviation strikes. Enemy attempted to advance towards Dementyevka, unsuccessfully. 
Sloviansk direction
Gun and artillery shelling and air recon using UAVs by the enemy, Russians used EW to interfere with Ukrainian forces navigation systems.
Kramatorsk direction
Shelling in areas of the frontline, active air recon using UAVs by the adversary. Ukrainian defence repelled Russian attempt to advance towards Hrihorovka.
Bakhmut direction
The enemy carried out artillery and aviation strikes at Ukrainian positions. Separate units of the adversary attempted to improve their tactical positions towards Soledar, Zaytsevo and Maiorsk, no success.
Avdiivka direction
Shelling with artillery and tanks, the enemy carried out aviation strikes, attempted to advance towards Nivelskoye, unsuccessfully. This and other Donetsk directions are the most active right now, but also Kharkiv was very active with Russian attempts to advance.
Novopavloskoye
Adversary shelled Ukrainian positions. Conducted an aviation strike. Assaulted towards Prechysotvka – no success.
Zaporizhye direction
Gun and artillery shelling of Ukrainian positions, no other activities.
Yuzhniy Bug (Pivdenniy Bug) direction
Tank, gun and MLRS shelling in order to prevent Ukrainian forces from advancing, Russians attempted recon at Potyomkyno. No other changes.
The Black Sea
No changes to the current group of the Black Sea Fleet, it continues interfering with ship movement in the western area of the sea. Mine alert as the sea is not calm today. 
City shelling by and against Ukraine
Shelling of Sloviansk railway station led to significant destruction, casualties are being clarified. Shelling was also observed in Nikopol, Zaporizhzhie, Sumy Oblasts, also Kharkiv which saw several powerful explosions from missiles like Iskander – the old part of the city was struck.
Ukraine dealt strikes to Daryevskiy bridge, also at Vysokopolye (a bulge in Russian defence) a strike at personnel. Novobogdanovka is burning where Russians built a vehicle and ammo storage base.
Air defence operated in Evpatoria, Crimea, but no information about explosions yet. Russian occupational forces are forbidding to announce ground strikes in Crimea.
Military-political situation
First million ton of grain has been exported from Ukraine, the process continues. Still 19 million to go.

 

Russians are withdrawing aviation from Crimea and transferring it to mainland Russia to preserve it and secure from attacks on Crimea, yet combat vehicles are the opposite, being brought to Ukraine. In Taganrog, Russia, an accumulation of heavy vehicles is observed. Russia is not abandoning attempts to continue war.
Pentagon signed a 182 million contract for purchase of NASAMS anti-missile systems to deliver them to Ukraine. Further contracts within lend-lease will look similar in terms of USA purchasing weapons to transfer them to Ukraine. The question of compensation will be discussed between USA in Ukraine. These systems will cover the sky of Ukraine.
ZNPP – both good and bad news. The good news is that at ZNPP two powerunits are operational, both are connected to Ukrainian network, Ukrenergo is in control of the power of these powerunits. The station is working for internal consumption. The bad news is that Russia is preparing a whole drama for the visit of IAEA, they are forcing employees to learn what is and isn't allowed to be told to IAEA reps. Fake employees will be deployed to speak to reps of IAEA to make it look as if employees are happy about Russian occupation. Unfortunately, shelling of the station continues by Russia.
A satellite photo of Antonovskiy bridge from 26 August was uploaded online, it shows that the bridge span is severely damaged but not collapsed yet, and no vehicles were present on the bridge indicating any movement has stopped. At the same time, the pontoon and ferry service is operational.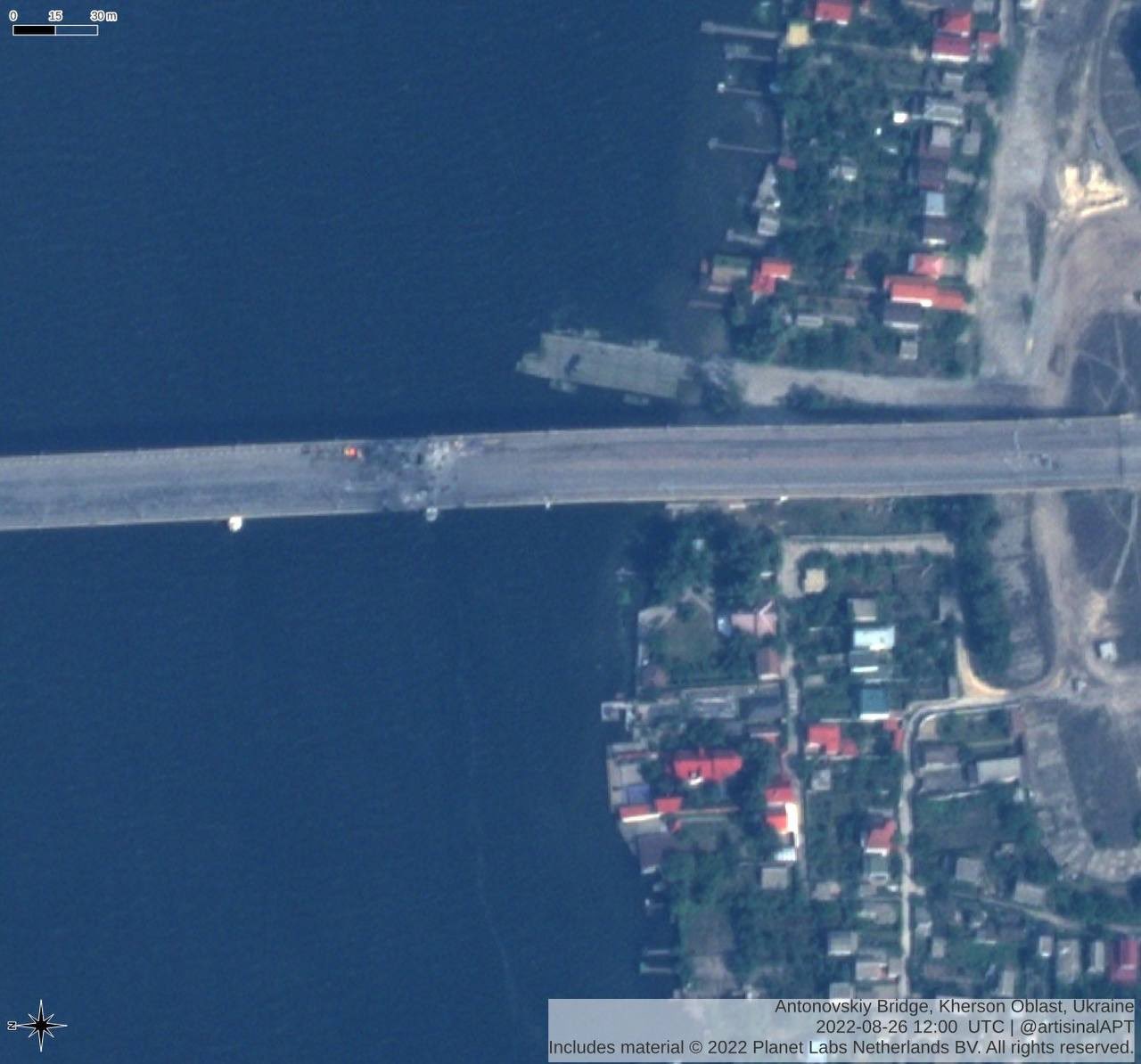 Polish kamikaze-drones will soon appear in AFU, these were purchased by Lithuania from Poland to transfer them to Ukraine.
Belarusian forces extended drills until 3 September, the drills have been on-going since 24 February.