August 16th was certainly an eventful day for residents of the temporarily occupied Crimea. Several explosions rocked the peninsula, including a large blast at the ammunitions stockpile located in the town of Dzhankoy. While a certain number of Russian commentators made statements about this attack, the majority steered clear from paying too much attention it in an attempt to downplay the impact such a strike might have. Nothing new. Yet, we managed to scrape some of the most amusing reactions and translated them for your pleasure.
This is the second time we see Crimea under attack in recent weeks, however, unlike in the previous instance, this time the authorities quickly admitted that the explosions were a result of attacks by Ukrainian sabotage groups:
The Russian Ministry of Defense recognised the explosions at a stockpile in Crimea as sabotage:

"In the morning of August 16, as a result of sabotage, a military warehouse near the village of Dzhankoy was damaged. Damage was caused to a number of civilian facilities, including power lines, a power plant, a railway track, as well as a number of residential buildings. There are no serious casualties. Necessary measures are being taken to eliminate the consequences of sabotage."
Later in the day, a number of sources published the before and after satellite photos of the strike location:
The first satellite images of the morning attack on military equipment near Dzhankoy (Crimea) have appeared. According to "Shema", the amount of equipment in the military warehouse has noticeably decreased. There were about 40 pieces of equipment in total – the Grad, Pion, Msta-S, Gvozdika systems, armoured vehicles.
Many in the West woke up today to the fabulous news about the attack, and the reactions from the Russian military experts and commentators quickly followed. Here's what the popular Russian Telegram channel "Starshe Eddy" noted:
Regarding the explosions in Crimea, I can repeat what I have repeatedly written: This is a difficult war going on with a high-tech enemy, who, moreover, does not experience a shortage of weapons, personnel, space, radio engineering and undercover intelligence, as well as military intelligence.

Whether it was a strike by a kamikaze drone, a rocket, or a sabotage group, in this case it is not so important for the layman. This is important only for those services that are responsible for covering Crimea from the actions of the Armed Forces of Ukraine.
Rybar, another channel known for regular frontline updates provided a more expanded overview of the situation, generally agreeing that an underestimation of Ukrainian forces led to such a result, once again hoping that "necessary measures will be taken" (as if):
Regarding another incident in Russia.

In the light of another incident in Crimea, we are receiving typical questions in the feedback bot:

"In Crimea, an ammunition depot is on fire. Dear Rybar team, what, in your opinion, is happening in Crimea in terms of past f*ck-ups of our command (Saky ammunition depot)? Why are such f*ck-ups, in principle, are allowed by the command in wartime? Isn't it time for Shoigu to retire a couple of staff members?"

We have already spoken about the explosions at Novofedorovka airport. The main problem is the misunderstanding that in fact these are military hostilities with a capable enemy, who is supported by the entire collective West. Supported with long-range weapons, instructors, mercenaries, targeting and reconnaissance equipment.

And we, unfortunately, have an opinion that we are at war with "some kind of Hohols" whom we have not rolled into a pancake just because "we have not even started yet." Yes, in the Bryansk, Kursk and Belgorod regions, which actually tasted the "charms" of wartime, there is now a semi-official martial law. Measures have been taken, law enforcement agencies are taking what is happening with the utmost seriousness.

In Crimea, one gets the impression that people are working, but in a somewhat relaxed manner – there is now a "buffer zone" of Zaporozhye and the Kherson region, they won't reach us. And the tourist season is now on, why bother people for no reason?

They reach us. And there are saboteurs. Among the refugees there are many "Slavoukrainians" who change their shoes on the go. And the activity of sabotage and reconnaissance groups is huge.

We very much hope that conclusions will be drawn. And that they will no longer be relaxed about what is happening.at sensitive facilities – whether at warehouses, military units, factories, power plants – directly or indirectly connected with the liberated territories.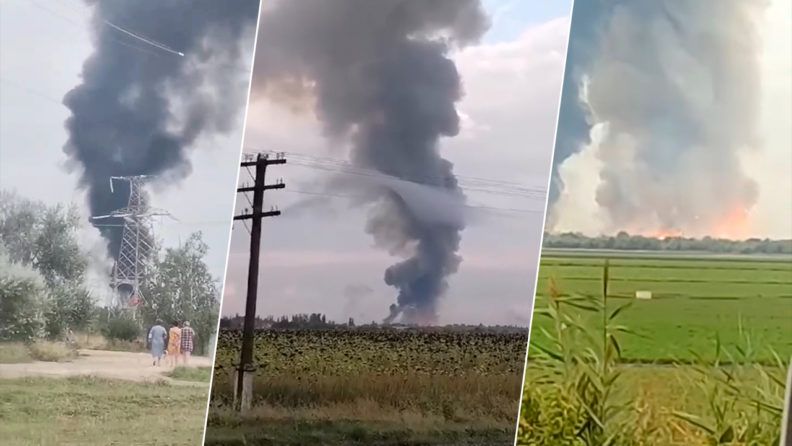 Rybar didn't stop there. After all, the strike was certainly sensitive, so he added more to his notes later, criticising various on-going military expos in Russia:
While the 10th Moscow Conference on International Security is thundering in the capital, in Alabino tanks are dancing a waltz that delights the wet eyes of the generals, and at "Patriot" [conference] they show Chinese robotic dogs in turtlenecks with grenade launchers, that is how they organised a temporary ammunitions and equipment cache in Dzhankoy.

Today at 6.15 there was absolutely nothing left of this warehouse. A small drone with a grenade was enough.

You can sum up the results of six months of a successful special military operation as much as you like, but until there is a complete reformatting in the minds of the warlords (those who arranged this are not servicemen but despicable warlords), it's too early to talk about real successes.

And the mosquito bites of the APU will be painful and successful in the media every time. Until a new army and new power structures are born. Who do care.
It wouldn't be a great reactions round-up without our beloved international terrorist Igor Girkin, who posted a caustic comment about the Crimea explosions:
Another sabotage in Crimea. A transformer was burnt down in Dzhankoy, and a large ammunition depot was blown up near the village of Maiskoye, Dzhankoy District. Presumably, the strikes were carried out by "kamikaze" drones, but a simple sabotage cannot be ruled out.

We are waiting for new messages from the Russian Ministry of Defense about non-compliance with fire safety rules, as well as about New successes in tank biathlon and about the largest fireworks in the world …

The partners struck the third blow at the airfield near the village of Gvardeyskoye in the Simferopol region. With a drone.

So now I'm thinking: maybe it was their application for ab absentee victory in the international army games?
A more or less sensible comment was made by ex-Ukrainian defector Dimitriyev in his Telegram channel, stating the quick admission of sabotage was aimed at removing responsibility from the higher authorities:
So, today there were reports of attacks on three objects on the territory of Crimea: a warehouse near Dzhankoy, a warehouse in Gvardeisky, a substation that was allegedly supposed to be connected to the Zaporozhye nuclear power plant. We waited and hoped that these were just cigarette butts, and not Ukrainian strike weapons (cruise missiles or UAVs) that found a gap in the defence. But from the statement of the Ministry of Defense it turned out that this was a sabotage. Why does MoD like this version more? Because this partially removes responsibility from the military department and shifts it to the department that is responsible for sabotage.

In general, the coverage of the situation according to the old Soviet methods has one goal: to prevent panic, to demonstrate that the leadership is in control of the situation and is leading it in accordance with the initially approved plan. The holiday season is in full swing, law enforcement officers are busy with the Taurida ART festival in Sudak. But there are traffic jams on the bridge due to traffic checks and road repairs on the opposite side.
Finally, a jolly comment came from the Russian Federation Council Andrey Klishas, known for his anti-Western remarks, simply saying this was an attack on Russia in general (no sh*t, Mr. Klishas):
These are not "little tricks". This is an attack on our Country, with an attempt to destroy civilian infrastructure and inflict maximum damage, including on the civilian population of Crimea.
We certainly hope similar measures will be taken by the Russian authorities to ensure we can see more of these wonderful mysterious explosions in the Crimea in the near future.
Stay tuned.